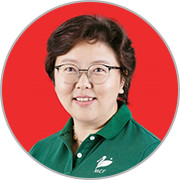 Power broker
As China's energy industryundergoes a seismic shift, Phoebe Yu FCCA, CFO of Shenzhen Energy Group, isidentifying new projects at home and abroad
There are two numbers that CEOs always have to pay attention to,says Phoebe Yu. One is the sales price of a product or service and the other isthe cost of production. Those are the first two numbers that shareholders andinvestors look at. And, in recent months, those are numbers that are taking upmuch of her attention.
Yu is CFO at Shenzhen Energy Group, a large Chinese state-ownedenergy producer listed on Shenzhen Stock Exchange. The company operates mainlyin power generation and the supply of urban gas. It has fossil-fuel powerstations, wind power farms, solar power stations and waste incineration powergeneration plants in more than 20 provinces across China. At the end of 2017,it reported revenue of RMB15.4bn. It is a large operation in a key industrythat is undergoing significant change. And Yu is at the heart of it all.
The last few months have been tricky, with structural changes inChina directly impacting the operations of the company and playing right intothe variables that affect both sales prices and costs. And there is no shortageof those variables, which include everything from global economic slowdowns orupticks to the performance of domestic currencies and the volatility of thestock market. Often, these variables are completely unrelated to the businessperformance of the company.
CV
2017
CFO and board member,Shenzhen Energy Group
2009
General manager,accounting and finance department, Shenzhen Agricultural Products
2004
Finance director, DeCroIndustrial (Shenzhen)
2000
CFO and board member,Hubei Tianhua Shareholding
1998
Business control manager,IBM Technical Products
1996
Audit manager, Deloitte

Recently, the bigger context is supply-side structural reform,' she explains.'2017 was an important year in implementing the 13th Five-Year Plan and incarrying out further supply-side structural reform. The "cutting overcapacity,reducing excess inventory, deleveraging, lowering costs, and strengtheningareas of weakness" policy has had much impact on the group.'
Yu notes that nearly 3,000 coal companies have been shut down inChina over the past five years due to supply-side structural reform in themining sector. Meanwhile, the number of large coal producers dropped to 5,067by the end of 2017 from 7,869 in 2012. Another 1,000 coal mines will be closedthis year in 12 regions, including coal powerhouses Shanxi province and InnerMongolia Autonomous Region. The result, Yu points out, is likely to be higherprices.
We also need to import coal from overseas, as currently domesticcoal production cannot meet our demand,' she adds. 'It increases our costs aswell.'
Push and pull
China's central government in Beijing is now pushing for more powerfor both residential and industrial uses to be generated from natural gasrather than coal, particularly over the winter. The move is part of a push to cutdown on the pollution that has choked many of the country's cities.
'Weneed to find new growth pillars in the face of the restructuring reforms in ourdomestic market'
In some provinces, such as Hebei andShandong, there have been warnings of shortages of natural gas, leading torecord prices. In 2017, liquefied natural gas hit RMB7,000 a ton, a six-yearhigh. 'There is not that much natural gas in our country, The switchingcampaign has made us rely more on imported natural gas.'Yu explains.
An additional pressure on the group is thepush for controls on electricity prices, reducing revenues further. One of themain strategies Yu has actively adopted since she joined the group in 2017 isexploring new markets. 'We need to find new growth pillars in the face of therestructuring reforms in our domestic market,' she says. 'We dipped our toe inthe water and have put more effort into the internationalisation of the companysince the Belt and Road Initiative (BRI) launched.'
The very first overseas project thatShenzhen Energy has up and running is the Sunon Asogli Power (Ghana) in Africa,a joint venture with the China-Africa Development Fund. The first phase of theproject, a 200MW natural gas-fired thermal power station, came on line in 2012.A second set of generators began operation in 2017.
'Following the success of the Ghana project,we are now speeding up expansion in overseas markets,' says Yu. 'Currently weare operating in Ghana and Papua New Guinea, and we have set up offices in HongKong, Indonesia as well as the US. Expanding in foreign countries is a maindirection for the company's sustainable development.'
But foreign expansion comes with myriadconsiderations of its own – not least environmental issues, which create bothchallenges and opportunities, particularly as new regulatory policies encouragethe development of more clean power. Yu, a keen environmentalist who has servedas supervisor of Shenzhen Mangrove Wetland Conservation Foundation, welcomesthis.
'I have always been passionate aboutenvironmental protection,' she says. 'Facing the climate change crisis, it iseveryone's responsibility to take action. It is also a sustainable approach forthe company's business growth,' she adds.
Two-pronged strategy
'We have a five-year plan, which highlightsa two-pronged strategy of helping in the transformation to low-carbon energysuppliers,' Yu says. 'We are aiming to increase the company's ratio of cleanenergy production.'
In 2017, Shenzhen Energy won a bid for ahydroelectric project in Papua New Guinea with total investment estimated atUS$877m; the project is expected to be completed in 2020.The company is alsoaquiring three California solar power plants from solar panel manufacturerCanadian Solar in a deal valued at US$232m.
'Our finance team participated in everyaspect of the foreign expansion,' Yu says. 'Due to different regulatoryenvironments, tax reporting systems in particular, there are many issues thatthe finance team should pay attention to. In the US, tax schemes for renewableenergy are very complicated, for example. Thorough understanding of the targetcompany's capacity and their tax reporting situation can help us make a properfinal bid.
That deal in the US was particularlyintense. 'It was the most complicated deal that I had ever come across,' Yuadmits. 'The skills and knowledge I learned from ACCA courses – for example, oninternational tax systems – helped me come through. To me, ACCA members are notonly professional accountants; more importantly, they should also be recognisedas complete finance professionals for their solid knowledge in accounting,finance, investment and risk management. They are well-equipped to cope withthe complexity of economic development and lead the changes of tomorrow.'
'Facingthe climate change crisis, it is everyone's responsibility to take action. Itis also a sustainable approach for the company's business growth'
Yu adds that support from members and staffwho meet through ACCA's myriad networking events are important for professionaldevelopment and are an opportunity to connect with peers. In 2016, she became amember of the ACCA Council, a role that allows her to represent the views ofmembers at a time when China is driving forward BRI as well as taking an activerole in the revitalisation of the world economy.
Back to basics
While the push abroad proved to be alearning experience, Yu has always worked to remember the importance ofprotecting the bottom line. Good cashflow is always key to the success of anyoperation.
'We have acquired a financial servicecompany and made it our supplement business,' she explains. 'It can optimisethe funding structure within the group and support subsidiaries that need moneyfor project development. We've invested RMB100m in this finance business and wehope that it can help our cash concentration rate reach 80% to 90%. Currently,we are at 70%, which is already quite high.'
Such a large pool of capital makes it easierto expand and facilitates the sustainable development of the company. 'We haveobtained a licence for our finance management firm. With that, we can get loans from external banks at an interbank interest rate, which is lower thangeneral commercial loan rates,' explains Yu.
Basics
State-owned Shenzhen Energy Group is listedon Shenzhen Stock Exchange, having gone public in September 1993.
The group started out as a provider ofelectric power in Shenzhen and neighbouring cities in Guangdong province beforeexpanding across China. At the same time it explored renewable energy projectsin Jiangsu, Sichuan, Yunnan and Inner Mongolia.
The company has also expanded into the wastedisposal industry as part of efforts to tap into the growing environmentalprotection industry.
Currently, Shenzhen Energy owns five coal-firedpower plants, five liquefied natural gas plants, six waste-to-energy powerplants and a string of wind farms and solar power stations.
In addition the company also owns anocean-going fleet of six Panamax bulk carriers and a finance subsidiary.
Yu thrives on the complexity of accountingand finance and is an active participant in the profession. In 2012, she joinedthe International Federation of Accountants' (IFAC) compliance and advisorypanel, and made active contributions to the revised IFAC statements ofmembership obligations and the 2013-16 compliance and advisory panel strategy.
'Working with IFAC members helped meunderstand more about the different approaches and systems that other countriesare currently adopting,' she says. Staying up to date with the profession andtechnology has been a touchstone through a 30-year career and, she says,something young finance professionals should take into account.
'Many people say that accounting is aprofession that always follows rules, which makes it lacking innovation andcreativity; thus there are concerns that many accountants will be replaced bytrendy technologies such as big data and artificial intelligence,' Yu says.
'What I see, though, is that there are a lotof different rules or formulations. A good accountant decides which formulationhas to be applied to your current situation and that judgment can only befostered by years of experience and understanding of a company, industry andmarket as well as the global economy. What we should do is to actively useinnovative technologies to help us make that final decision.'